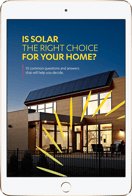 Wondering whether solar power is the right addition for your home? And will it be worth it - financially and environmentally?

Our eBook answers the most common questions that Kiwis ask themselves (and us) when they're considering whether solar is the right move for their house, their family, and their lifestyle.
If you're debating whether solar could be the solution to your large power bills, this eBook is for you, or if you're wondering whether your property is suitable, please read on.


The eBook covers:
The main benefits of solar
How to work out if solar is right for where you live and the style of your home
Practical information about the logistics of installing solar
How much you can potentially save with solar
How to maximise your solar savings.


Simply fill out the form to download our eBook.