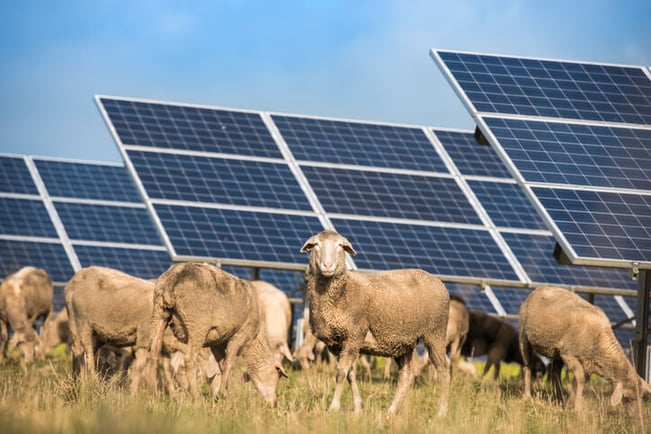 If you run an agricultural business in New Zealand, then a switch to solar energy can offer you a range of long-term benefits to drive the costs of your power expenses down, and increase your profits.
Solar energy can be applied in a range of ways to sheep and beef, or dairy farms, and horticultural or viticultural businesses, to significantly reduce your greenhouse emissions and turn your business into a clean, green, and more profitable operation.
In this post, we give you a broad overview of some of the key benefits that you as an agri-business owner can expect from deploying solar on your land, that we've seen first-hand as we've installed solar energy systems across the country.


The direct benefits of solar
Cutting power costs: The Mathieson's dairy farm, which we worked on near the Southland town of Riverton was the first in the South Island to use a World Solar system. The owners calculated that a solar investment would produce a 15-20% rate of return by saving on their traditional monthly power costs.


Solar powered irrigation: Solar energy can be converted into electrical energy to pump and transport water. This is ideal for areas prone to drought in the hot and dry seasons, as it takes advantage of sunshine to keep water flowing.


Solar feeds back into the grid: Going solar gives you the best of both worlds, as it doesn't mean you have to detach your business from the national grid. Our systems feed power back into the grid, meaning that any excess energy absorbed by your system (over and above the amount of energy used) is converted into a direct payment to you by the power company at the end of the month.


Solar powered farm equipment: Solar power can be used on a range of solar powered equipment, including:
Electric fences: Solar power systems have the ability to power fences several kilometres long, and can work with both portable and permanent systems.
Solar lighting: Particularly effective for lighting required in remote locations.
Solar powered sensors: The sun can be used to power data-gathering sensors in places isolated from the grid, that can give soil and plant readings.
Greenhouse heating: While greenhouses traditionally rely on gas or oil heaters, solar powered versions can retain heat on warmer days and then apply it during the night, or when the weather is overcast.
Solar air heaters: Most often used to heat air required for buildings and animal enclosures.


As a form of renewable energy, the sunshine is a resource that can be harvested forever.
By building solar into the practices of your farm, you'll reduce the dramatic effects of carbon emissions that pollute our atmosphere – and do your part in improving the agricultural industry's environmental reputation amongst New Zealanders.
While powering anything from livestock buildings to electric fences, harnessing the sun's energy is a progressive opportunity for your agricultural business that could lower your monthly electricity bills, and at the same time reduce environmental pollution caused by energy production.
To read more about how solar is helping farmers, horticulturalists and viticulturalists across our country to contribute to a cleaner, greener New Zealand, while driving energy costs down and increasing profits, check out our agriculture-focused information, here.


Considering solar as the way forward for your farm? Book a free consultation for your farm, with one of our solar consultants today.