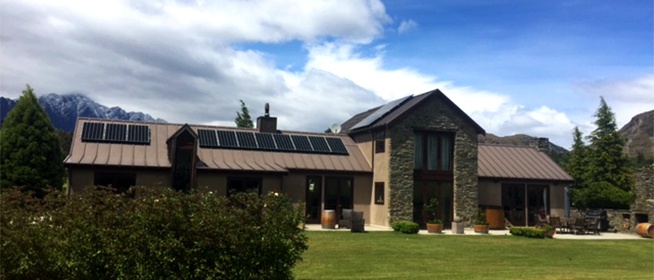 David from Otago shares his story of switching his family home to solar.
After seeing homes around the area with solar panels installed, David began thinking about a solar power solution for his Arrowtown home.
"I had seen several homes around our area that had solar panels installed. I asked them how they liked their new energy system and they had nothing but praise for solar. They were getting .12c to .14c into the grid. I was only getting .07c and wanted to increase that substantially."
David had also just visited family in the United States, where his nephew had installed 50 solar panels on his house. Having just received a winter power bill of $587 back home, he compared it to what his stateside family were paying – which was only $43!
"I read an article about solar power in the United States that said if you were currently paying between 9.5wh and 12.5wh, solar made sense. I was paying 34.4kwh! It was a no brainer! When I got back from my trip, we made the decision to go solar."
After hearing a recommendation about a local installation by World Solar, David was sold.
"The next week I called for an appointment with the World Solar team. Tyrone called in later that same week and we spent the better half of a day going over every aspect of the job and cost. All of my questions were answered, plus the warranty outdid any of the other companies by far."
After installing a 30 panel system in September, and the export meter in late October, the family's monthly power bills decreased dramatically.
"It's so exciting to see our power bill decreasing every month, saving $271.46 in our first month!
Power bill for Oct/Nov 2014 was $350.51.
Power bill for Oct/Nov 2015 was $79.05, saving $271.46.
Nov/Dec 2015 power bill was only $1.98
January 2016 power bill: power company owed $33.62
"I want to personally thank the World Solar team for doing what they promised, in a timely fashion, with no hassles! The World Solar team were great to work with and their follow-up has been first class."
---

Get great savings on your power bill, plus great customer service from the World Solar team. Get in touch with World Solar today.