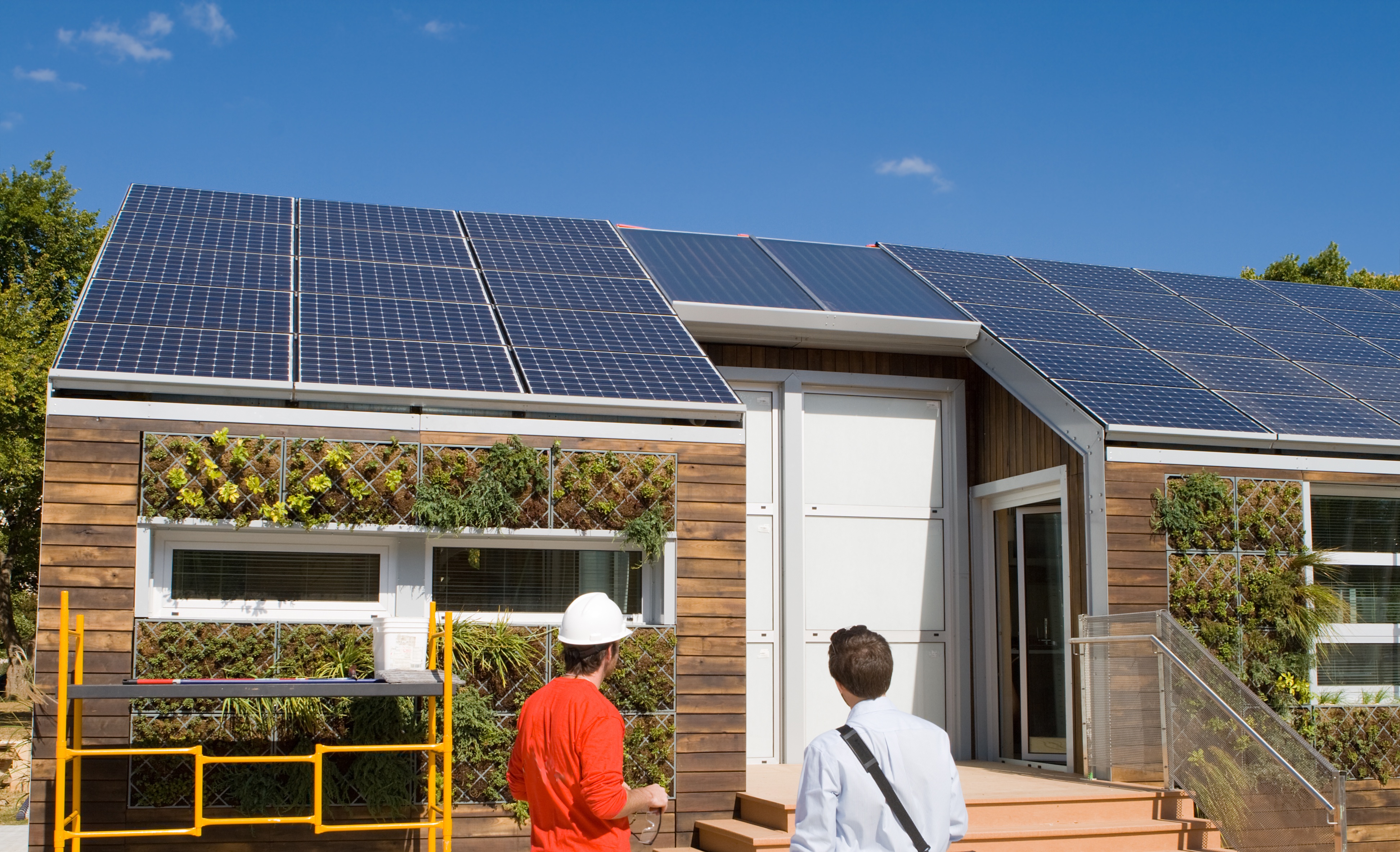 Planning your dream house is an exciting venture. But of course, even with everything you have to look forward to, you also know that the new-build process comes with its challenges 'built in'.
For starters, you'll want to make sure that your new house is a high-yield investment that will benefit you financially for years to come. You may even be thinking of how to make the home future-proof and an asset your children could inherit one day. At the same time, it has to be a home you can enjoy now.
That's where solar power comes in, and it may be just the perfect finishing touch for your home. Solar power is a renewable energy option that lowers your monthly electricity bills, and that pays for itself as the savings add up over time.
To find out how much you could save, use our calculator, here.
Here, we'll talk about 8 specific benefits of solar for your new home...
1. Solar offers big savings on monthly power bills.
With solar energy, sunlight hits your solar panels and gets converted into usable electricity for your home. When you use plugged-in devices or run your heating and lighting, you use the 'free' energy that your panels generate first. Then, if you need more power, you can seamlessly draw from the utility grid.
That means big savings on electricity month-to-month, which you might see as soon as you move in.
2. You'll never waste energy.
Because your solar installation is connected to the grid, you won't lose the free power you generate. The excess is simply stored in the grid, which you can use later or even sell back to your local electricity supplier in exchange for credits.
When selling back solar, with a typical 3000kW rooftop solar installation, you'll yield an ROI of about 7.1%. This percentage is a combination of monthly savings and income from local utility 'buy back'.
3. You'll have more control over your energy.
Simply put, solar puts you in charge. Not only will you be less reliant on an unpredictable utility grid — you can continually become more and more 'energy-independent' with close attention to how you use power at home.
4. Solar provides peace of mind for the long-run.
Solar panel systems are durable, easy to maintain, and reliably produce power for many years from the moment they're up and running.
A 25-year warranty is standard for a solar installation, ensuring long-term comfort for you and your household.
5. Solar adds capital value to your home.
You might sell your new home one day, and solar puts you in a good spot in terms of re-sale value. With a built- solar system, you'll likely increase your home's resale value in the eyes of future buyers, a growing number of whom care about renewable energy.
6. It's easy to make home improvements and additions with solar.
Sure, you're building the dream house for your current needs, but is it possible you'll want to add a new sunroom, living room, or other additional square footage to your home in the future?
If so, solar is a great home improvement partner. Its flexibility means you can continue to meet your power needs, simply by adding or reconfiguring solar panels.
7. Solar adds visual interest to your home.
Aside from being an excellent cost-saving power option, solar panels look good!
Solar panel installations add a unique, sophisticated touch to your home, and they tend to complement your curb appeal, no matter the overall style of your house.
8. Solar makes for a greener New Zealand.
Solar energy is one of the best sustainable energy options for homeowners. It utilises the sun's rays, a completely free power source.
And, a solar system does not use fossil fuels or emit harmful hydrocarbons while storing and producing energy. That means a cleaner, greener New Zealand, both now and for generations to come.
All things considered, solar power can be one of the smartest additions you make to your new home and lifestyle.
Solar yields financial returns for the long haul, thanks to the monthly utility savings.
And, it just happens to come with a host of other social, environmental, and aesthetic benefits that will make your new home more comfortable, more valuable, and a place to be proud of for a long time to come.