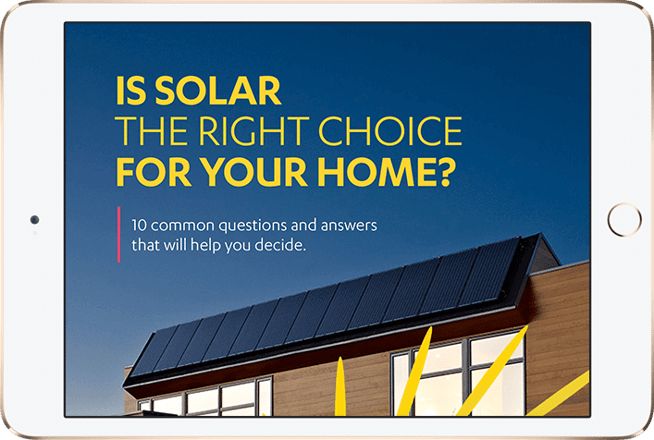 Moving to a solar energy system is a major decision that will improve your finances and your family's quality of life.
Large power bills and the need to reduce household outgoings are among the most common reasons that families tell us they choose to add solar to traditional energy sources. However, the benefits of solar extend far beyond these two reasons.
If you're considering installing solar as part of a home renovation or a new build, you no doubt have a number of questions to be answered, before you arrive at a decision.
In this post, we preview our new eBook, "Is solar the right choice for your home?".
The eBook covers what you need to know about switching to solar, to help you make the best decision for yourself and your family.
Some the topics we've written about in the eBook include:
The main benefits of solar
How to work out if solar is right for you and your home
Information about installation
How much you could save per month and over the lifetime of the system.
The top benefits of adding solar to your home


Installing a solar system has several advantages that will impact your wallet, family and environment. Some of the top benefits are:
Significant savings. Cut your household energy costs by saving money on your monthly power bill. This adds up to a sound return on investment for many years to come.
Make money from your excess power. Solar gives you the opportunity to make money by selling any excess power you generate, back to the grid.
Take back control. A solar system allows you to become partially or fully self-sufficient so you won't be reliant on the electrical grid.
Looks great. Our solar panels are attractive and integrate perfectly into your roof — whatever its style.
Help the environment. By powering your home from the sun, you improve your health and protect the environment by reducing your carbon footprint.
Common questions

Solar is a cost-effective energy solution, which can be easily installed in almost any New Zealand home.
To see if solar is right for you, check out 10 common questions and answers, covered in our eBook. These include:
Is the area where I live sunny enough for solar?
Can I power my whole house with solar?
Will solar panels work on my type of roof?
What happens if it's cloudy?
What will it cost me?
How big a difference will solar make to my power bill?
How can I maximise solar savings?
Solar energy systems are a great choice for you, your family and the environment. Transform your life for the better by powering your home with the clean energy of the sun while keeping your connection to the grid for back-up if you choose. This means you can start saving on your power bills from day one.
Solar power is no longer an "alternative" choice for New Zealand homeowners. It's a mainstream option that makes sense from a financial and an environmental point of view. A growing number of Kiwis are enjoying lower monthly power bills and helping to keep New Zealand green by using this clean and powerful energy source.


Deciding whether to switch to solar requires careful consideration but the benefits are clear. To find out if solar is right for you and to get answers to all your questions, download our new eBook.